As many of you know, one of my big hobbies is racing Corvettes. Tim and I started racing about nine or ten years ago and I have to say it's really just stupid fun. But because I spend so much time thinking about games.. and racing, it stands to reason that I'd find intersections between the two.
This past month we got some very sad news. Texas World Speedway,  in my opinion the best track in Texas.. the oldest with the greatest history.. is now on track to being bulldozed under and turned into a housing development. This is sad on many levels, but for me it's because it's the one I consider my "home track."
Sure, there are other tracks in Texas. Some really NICE tracks.. MSR Cresson, Harris Hill, Eagles Canyon.. and more. But none of them have the feel of TWS.
None of them were tracks where I felt I could bring friends and easily introduce them to the world of racing.
Which led me to question.. why?
Why do I feel that way about this track and none of the others? What does TWS have that the others don't have? Sure, it has a   banked front straight, which no other track in Texas has. It has two long straights for the high horse power cars to really stretch and run, but other tracks have nice long straights. But this is more than just the track map.
So I started to look at TSW vs the other tracks and I came upon one very unique difference.
Texas World Speedway is laid out to support social interaction.
OK.. let's get some terminology first…
Pits, Paddock. The "pits" are the designated spots where participants can park their race vehicle and put their supporting gear. The Pits are located in the Paddock, which is the area where race vehicles and their supporting staff are parked.
Grid – the Grid is where you line up before you are released on to the track to race
TWS – Texas World Speedway, a track located in Bryan College Station
MSR Cresson – Motor Sports Ranch is a track located in Cresson, Texas.
MSR Houston – MSR Houston is a track located in Angleton, Texas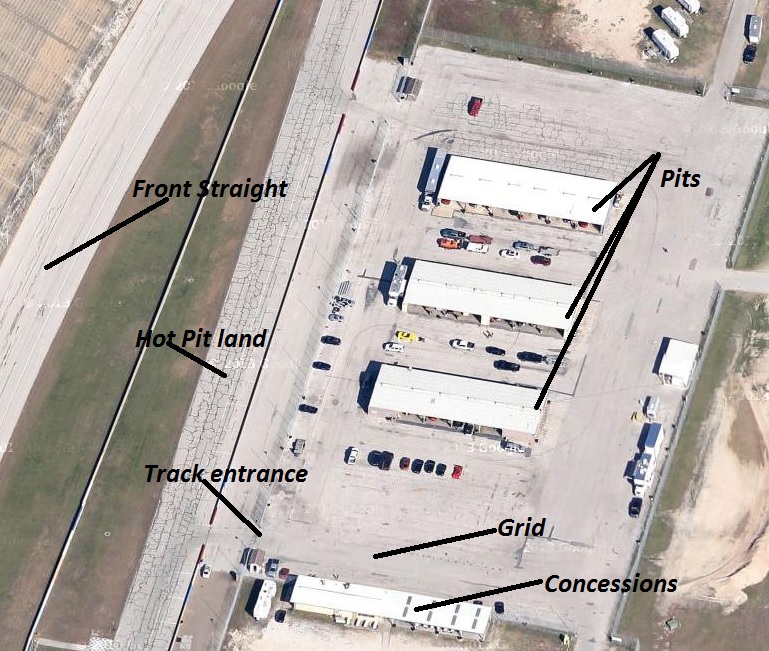 Now, if you look at the map of TWS, you will notice that the Pits are actual structures. They are long open metal buildings with a shared table that runs down the middle.  Race participants are all parked close to each other all weekend and this encourages interaction. Whether you are asking how each other did, or need help repairing something, there are always other people right there.. with their tools and chairs and ice coolers.
Instructors as well as participants all use these pits. This encourages mingling between "veteran" racers and "newbie" racers. It allows conversations and mentoring to occur the entire time, not just in the car.
Additionally, these pits are just yards from the track with no impeded view of the cars as they come down the front straight. This allows people to easily walk to the fence to see who's doing what or see how long before their next session and still keep an eye on the pit where their friends are.
The grid (place where you line up your car in preparation for going out on track) is also adjacent to the pits. This allows drivers and instructors and even visitors to walk close to the cars as they prepare to go out. It keeps everyone involved in the action of the day.
Concessions are also within easy walking distance and view of the pits. This allows people to grab something to eat or drink without losing contact with the action… without losing contact with each other.
Unfortunately for other tracks in Texas, this isn't true. While they may have a really great clubhouse. Or they may have good garage facilities, they are not designed in such a way that encourages making and strengthening social bonds.
MSR Cresson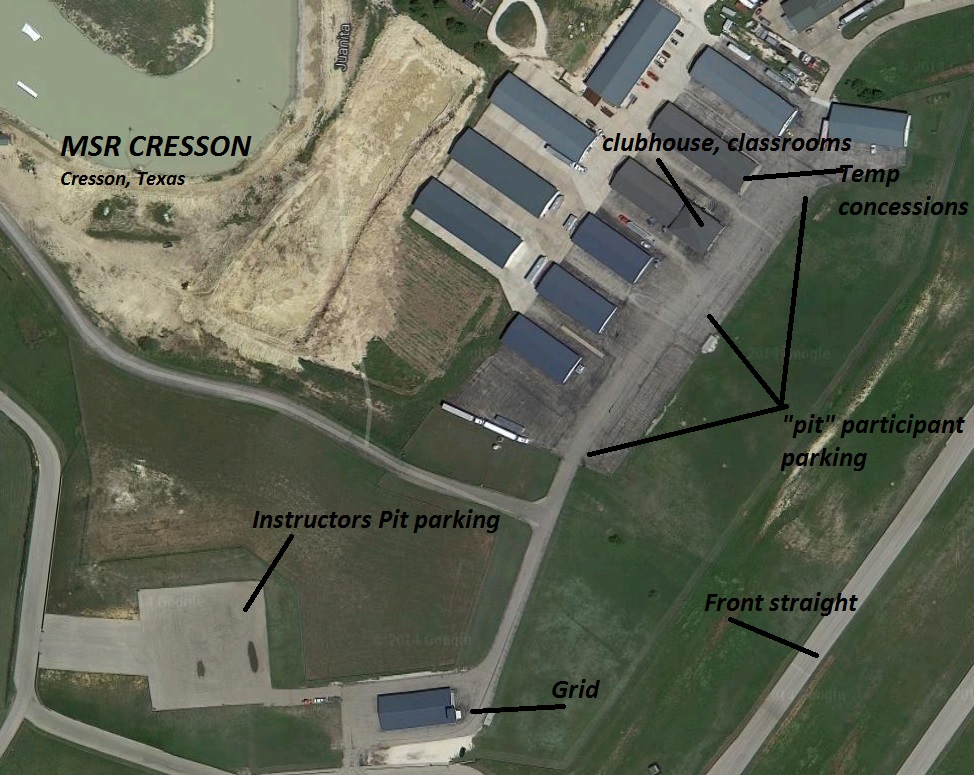 This is MSR Cresson, outside of Fort Worth, Texas. First notice how far out I had to zoom to even get the Pit, front straight, grid, and instructor parking all in the same picture. Now this is a membership style club, and there are actual garages members can rent, but otherwise there are no actual designated pits at this track. Participants who are not members park randomly in a large parking area. Instructors pit in a parking lot up close to the grid. Because the Grid is so far from the participants, the instructors and students do not have any opportunity to interact outside of the car. This discourages socialization between veterans (instructors) and newbs.
As I mentioned, the participant parking area at MSR Cresson is a very long walk from the grid. This keeps people from watching each other go out on track, helping each other at the grid or from having friends and potential participants from easily observing what happens at the grid. Also, it makes it harder to keep track of exactly when you are supposed to get your car to the grid when it is your time to drive. Participants have to be keenly aware of track time and how long it takes them to get to the grid which increases stress levels and makes casual socializing more difficult.
Also, there are no permanent concessions at this track. Depending on the event, temporary concessions are usually set up by the clubhouse.
The front straight is visible from the parking area, but the best view is from the upper deck of the clubhouse. Now the club house is very nice. The view from the upper deck is pretty amazing, but that's the problem. Visitors to the track have to go up to the second floor of the clubhouse to watch and this is a long walk from the grid, the pits and the instructors. All in all, while it is a very nice facility, it does not provide a grouping that builds social bonds.

MSR Houston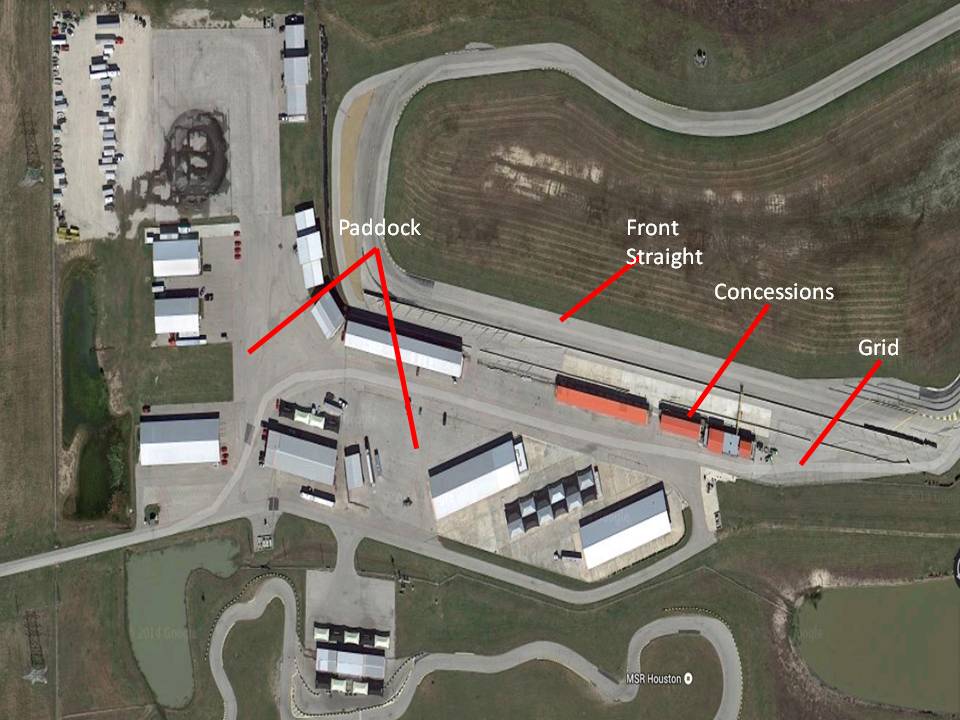 At MSR Houston, there is some covered parking, but most parking is in the open parking lots between the garages. The open spaces and the garages are located behind the grandstands and other buildings. This prevents participants or visitors from being able to see the track from anywhere but the grandstands; which makes for empty pit areas as everyone wants to be able to watch what is going on and can't do that from where they are pitted.
Concessions are also an issue as they are usually in the clubhouse area. While they may have a good view of the entire track, they are not close to the pits or the grid for easy access by participants. Also, the actual grid is located at the far end, out of sight of most of the paddock area.

Social Structures and Race Tracks
How does this relate to games? As a game designer, one of my jobs is to make sure that, in the case of multiplayer games, I create experiences that are "socially sticky", meaning people make connections with other people and that experience keeps them interested in the game. In the case of race track layout in Texas, Texas World Speedway is the only track that is built in such a way as to foster a social atmosphere.
Also, in my experience building MMOs (Massively Multiplayer Online games) we design specifically to keep groups of players together. We know without a doubt that every time you put players into a situation where they either can not get to their group or they can not stay with their group or even worse, can not FIND their group, you raise the chance that they won't come back.  Racetracks in Texas are not only not designed this way, but they are designed in such as way that it is EASIER to not be in a group than it is to stay in a group.
I've brought many friends to TWS. Usually within minutes they are walking around, looking at cars, chatting with the people who are parked next to us, etc. They've been able to easily reach the concessions and grid, all while keeping an eye on where we are parked and where I am.
At the other tracks in Texas, I have found my friends feel isolated, and not welcome. They cling closer, don't socialize and don't begin to build the bonds that will help to get them involved in this hobby.
The loss of TWS is a blow to this racing community. But the other tracks in Texas should take this as an opportunity. By looking at their track upgrades with an eye toward building and sustaining a racing community, establishing a social space where people feel empowered to mingle, talk, ask questions and stay in the action of the track, they can quickly step up and have their tracks take the role of social leader in our community.